Ho Hum
I spent the weekend at the
track in London
, taking an official's course and watching some racing. I didn't get to take any pics even though I lugged down a digital video cam. But here's a pic from one of the racing nights:
The track is in an old hockey arena, and with the seats, music and announcers the atmosphere is like being at a hockey event. This shit has potential.
Pro races at this time of year means exotic pre-season locales like Malaysia, Qatar and Australia. This is a
Graham Watson
pic from Qatar. 62 kph, flat out burn through the desert :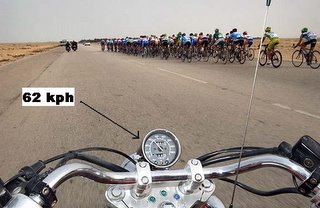 Since I was out of town I missed assbike song, but maybe this will make up for it: Lately I've been checking out the
WFMU's
live broadcast (find it on the sidebar from that link). It's supposedly a
Freeform
radio station, and listening to it at night reminds me of high school and early undergrad days of studying at night listening to
U of T Radio
.
I do have a coupla projects in the works and I'll have some pics soon.
....and Oh Yeh, yearly bikin' total 28 hrs.