Duchamp Edition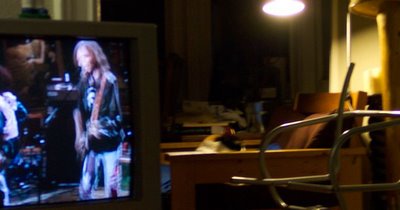 That's my "artistic" pic, Neil Young;
Rockin the Free World on a Sat. Night
.
I spent most of this weeknd at the Bike Show. It's like a
conference
for bike peeps. I no longer go for the deals since I have pretty much everything I need, I'm there to do
bidnass
-- go to meetings, promote our events and make connections with peeps that can help me out this season. It's also a chance to see a lot of yr ole buddies you haven't seen over the winter.
I coulda taken pics of the shiny new 2006 bikes and stuff, but really I don't give a rat's about this year's five or ten thousand dollar bikes. Some of the non-racing type stuff is actually more novel these days -- like this dude doing some flatland BMX stuff :
Way bigger than the racing scene is the BMX/X-games type stuff. Even though we're both part of the same show -- really this stuff is a universe apart. There's this huge
majority
of BMX bandit kids that don't give crap about Tom Boonen or the Tour de France.
The most interesting thing about the BMX is the demographic -- check out this pic of the hoodies'n'cargo pants crowd :
I don't know what you call these kinda dudes; so I'll call'em skids (as in skidmarks) these doughy white dudes that are all kinda grubby, with facial hair and HATS (gotta be hatted). They're prolly nice guys ... but they don't look like they'd smell too good or sumthin. Or maybe it's just that
teens are ugly
.
Nigella Writes! I spotted this in a window, you can actually it see behind the
rare groove ride
, the night I picked it up.
Guilty pleasures! Nigella is the chick all the girls hate. Too bad haters -- there's nothing like chillen out on Saturday nite while the shapely Nigella whips up some of her bland and fatty sensations -- tonight -- baking up chicken skin and bacon --> Yee haw! spaghetti sauce!
Ice Cream! ............ For Breakfast !!
I love modern art. Like how anything that's weird or subversive is art. If this reasoning applied to everything else I would be Brad Pitt and living in the Taj Mahal. It's so stupid and clever. Marcel Duchamp was the grandfather.
But the best piece of modern art is
the Manzoni
from the
Tate's Gallery's permanent collection
:
Mr. Piero Manzoni canned his crap and sold it for the same price as gold.
Also excellent are the
Goldpills
from sometime U of T student
Tobias Wong
:
Awesome!
On sale at
CITIZEN:Citizen
. There's more of Tobi Wong's cool inventions on his
Web Page
, like his
Smoking Mittens
.
Even Toronto writer Margaret Atwood is an inventor now. She's the inventor of the Long Pen :
This lets writers sign their books remotely, but (i guess) it would also let anyone else write something from across the world. A simple but cool idea.
I haven't thought of anything that cool, but this might be the most interesting thing in my house. The Gusano Rojo ("Red Worm") Mezcal (it's something like Tequila) that Ian gave me.
That's the gusano.